In our highly competitive environment, sales operations and processes have become increasingly complex. In this case, a sales enablement tool can change the game. Hence, the market for such tools gorws accordingly, with a wide range of solutions available.
Where can a Sales Enablement tool help ?
Sales Readiness
Sales Content Management
Sales Engagement
What is a sales enablement tool ?
In the world of sales automation tools, a Sales Enablement tool is a system or a platform providing increased visibility across the sales lifecycle. If chosen wisely, it can help in aspects such as :
Align sales and marketing teams;
Manage branded content;
Qualify leads;
Provide analytics.
Moreover, Forrester notes on their key takeaways that these tools will continue to gain in sophistication.
However, as for everything Sales Enablement related there is no "one-fit-all" solution.In fact, every tool does not fit any type of structure, industry or company size.
With so many Sales Enablement tools available, it can be difficult to determine which kind fits a company's specific needs. With this in mind, we defined three main areas where a Sales Enablement tool can help.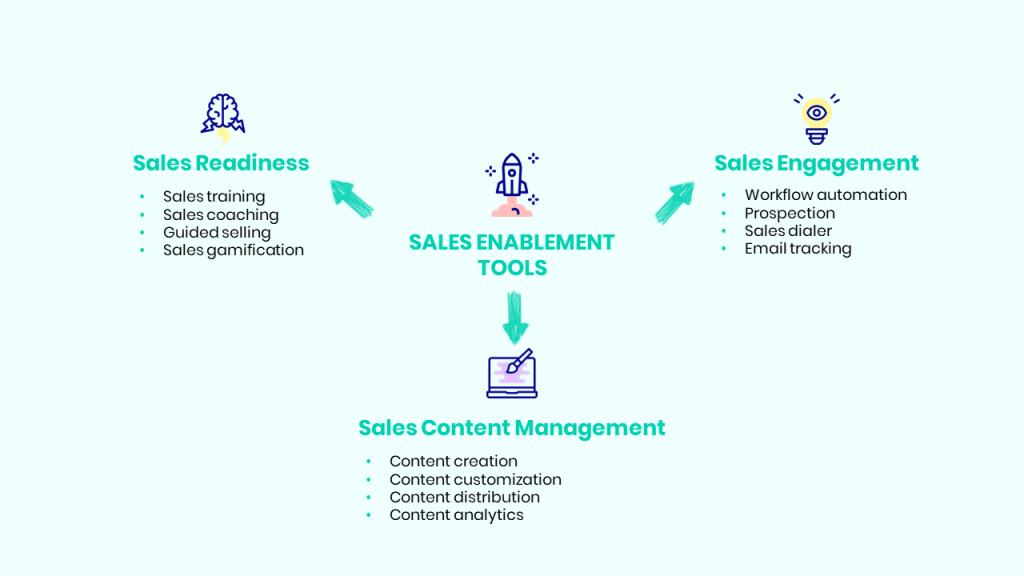 1. Sales Readiness
What is Sales Readiness ?
Sales readiness determines whether salespeople have the right skills set and knowledge to sell. They should allow,in particular, to have effective conversations with prospects through their buying journey.
In a word, it is the iterative process that ensures that sales teams can meet the customer's needs. This includes creating, executing and reviewing their sales process to reach business goals.
When to consider a sales readiness tool ?
To begin with, tools that focus on sales readiness help maximize the overall productivity of a sales team. To illustrate, they can help with :
Sales training: It is a structured discipline that focuses on specific concepts. It is a good fit for onboarding, as the same training can be used for a group.
Sales coaching: It is a less structured discipline that focuses on continued skill development. It is a good fit for individual use as it adapts to specific weaknesses.
Guided selling: Guided selling solutions recommend content, actions, and communication tactics according to the sales situation.
Sales gamification: This type of tool focuses on data visualization. They often create friendly competition around sales performance. This can be done through rankings, sales metrics and rewards for example.
2. Sales Content Management
What is sales content management ?
Sales content management includes creating, managing, modifying, and optimizing sales collateral throughout the sales process. Basically, content should be relevant and easily accessible for everyone. Surely, sales content management is a key component of any Sales Enablement strategy. In essence, it increases conversion by finding the right content at the right time.
When to consider a sales content management tool ?
Tools that focus on content management help align sales and marketing teams. They empower a company's content strategy. To list, they can help with :
Content management: It helps marketing teams ensure the appropriate use of content. For example, Bricks.ai allows marketing to upload and manage content used by sales representatives.
Content customization: It helps teams create relevant sales collateral efficiently. To illustrate, Bricks.ai allows teams to customize specific content directly on the platform.
Content analytics: It helps measure content impact and performance. Thus, marketing teams can adapt their strategy accordingly.
Content distribution: It allows brands to deliver their content to larger scale. This can be achieved across a variety of channels such as websites, paid search, or social media for instance.
3. Sales Engagement
What is sales engagement ?
Sales engagement is about the interactions between sales teams and their prospects. It refers the channel, frequency and body of their interactions.
When to consider a sales engagement tool ?
Tools that focus on sales engagement are useful when you are actively working on streamlining and automating your sales process. To demonstrate, they include :
Workflow automation: It helps automate repetitive tasks in the sales process.
Prospecting: This type of tool helps create a reliable database of potential customers to address. They can qualify leads or help find the right contact in a targeted company.
Sales Dialer: This type of tool helps automate calls to prospects. Sales dialers can limit calls to comply with local regulations or provide insights for instance.
Email tracking It helps send and track email sequences. It can track whether your email has been opened, or if links have been clicked for example.
To conclude, a sales enablement tool can be a great asset to a company. However, it's success depends on the initial choice for the tool. With this purpose in mind, it is key to proceed to an audit before investing.