During the Covid-19 pandemic, companies have experienced the impact of various precautionary measures. These measures pushed them to accelerate the digitalization of their sales processes. Indeed, the digitalization which was already in progress before the pandemic, proved to be essential for any company during this complicated period. Sales collateral is specific content developed to complement your sales process. Salespeople share it with prospects to help them through the buying process and convert them into customers.
In this article, we look at what comes from this transition, driven by the health crisis.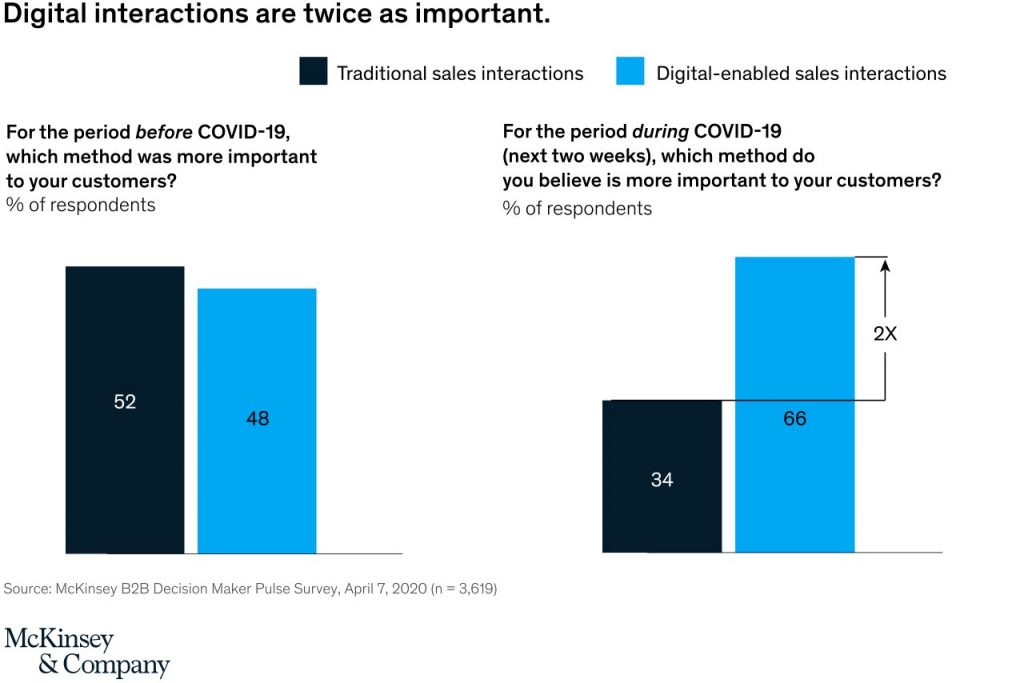 Source : McKinsey B2B Decision Maker Pulse Survey, 7 Avril 2020
What are the benefits of 2.0 sales collateral ?
Digital is the new norm in the creation of sales collateral and marketing materials, and this is welcome! Indeed, there are many advantages to digitalizing your content creation.
Streamline your sales processes
Cooperation: centralization, sharing, and information flow has never been easier than with digitalization;
Credibility: digitization allows the creation of fast and quality content;
Productivity: digitalization allows your sales representatives to focus on their core business: selling.
Finally, sales materials provide your sales team with relevant content to convince prospects.
Related articles
Modernize your brand image
In the midst of digitalization, the image of your company is even more important. In the post-Covid-19 B2B world, the expectations of prospects and customers have changed, which is why modernizing your image is crucial.
In this context, the creation of modern content is a must. Content must be adapted to current trends in order to drive prospects to discover you.
Similarly, creating virtual spaces for exchange brings you closer to your target. Your brand image is then built around proximity and trust.
Capitalize on your data
The digitalization of commercial supports allows you to capitalize on your existing data.
The objective is to use existing data to offer personalized experiences adapted to each context while reducing creation time.
Leveraging data has never been easier. Your sales reps can create content that is more targeted, comprehensive and, most importantly, informed by relevant information.
Sales collateral: the keys to success
It is not enough to switch all your media to the digital sphere to make them effective. In fact, new terrain means new rules. Here are our 3 tips for engaging your customers and prospects.
Engaging content
With the ubiquity of content, it is essential to stand out. To be engaging, you need to be able to reach your target at different levels. To answer this, the advantage of digital is that your content can be declined in several forms. We can cite :
Video: allows the quick understanding of the message conveyed by the company in an explicit way.
Image: allows you to get an overview, a picture is worth a thousand words!
Interactive diagram: allows you to present information in a digestible way, particularly in figures.
Moreover, these formats can also include an interactive aspect for the end user. In short, interaction and accessibility make your content all the more attractive.
A strong visual
Novelty always appeals to customers, so you need to think outside the box. This brings a touch of originality to set you apart from your competitors. With that being said, working on the visual aspect of your content is a task in itself. Before jumping in, it's important to be able to answer the following questions:
Do you have the ability to match up with customer needs?
Do you have the ability to innovate?
Do you have the ability to mobilize the required company resources?
Thus, reworking your visual can have an impact on the image you give to your prospects. But, as with any renewal, it must be done carefully as part of a thoughtful strategy.
A synthetic message
Finally, the main objective of the commercial supports is to accompany or to flatten a speech and to make pass a message. In the digital world, this message must be short.
Indeed, it is key to meet the customer's need and highlight your competitive advantage in a few words. The shorter the message but the higher the added value, the more your prospect will remember it.